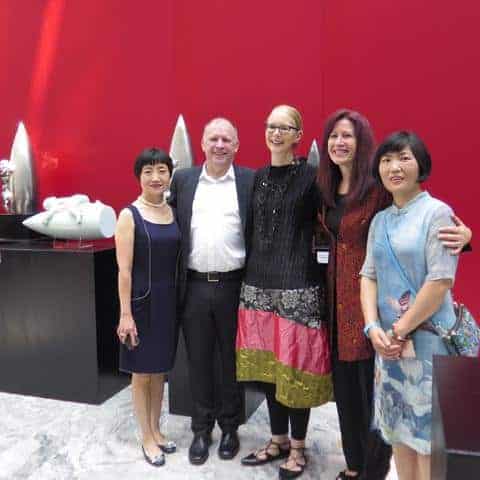 Weilian (left) with Neill Williams, Jane Milosch, Diana Williams and Mr Liu's daughter
Weilian and Andrew were delighted to attend the opening of close friend and extraordinary porcelain artist Diana Williams' exhibition in Jingdezhen, southeast China. Jingdezhen is the most famous city in the world for porcelain producing imperial ware from the 11th century until the end of dynastic rule in 1911. Contemporary porcelain is very popular worldwide and the city is still regarded as a major centre of porcelain creative art.
Diana has been a close friend since we first met in Canberra in about 2006. Diana's passion for her art is tangible as is her quiet humility to work under a master of porcelain, Mr Liu Yuanchang. Her relationship with her mentor continues to this day with annual periods of study and work in Mr Liu's Jingdezhen studio.
Diana's first exhibition in Canberra titled "High Fired" was an interpretive series of artillery shells, captivating for their imagery and symbolism. The inspiration was an exploration of the difficulties Diana encountered of her son's decision to follow his father and indeed other family members before him into a military career. High fired is a juxtaposition of the high temperature the clay must be fired at to become porcelain and a military shell that is fired high to hit its target.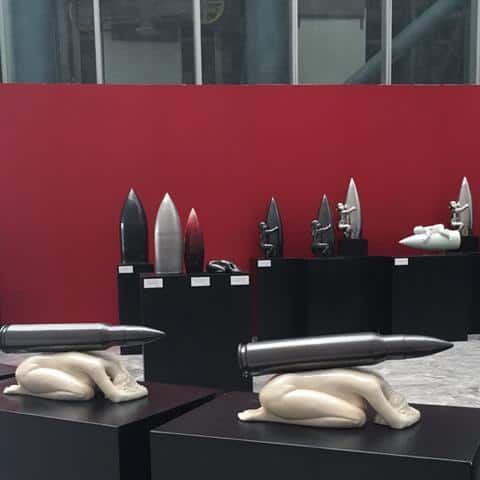 The current exhibition in Jingdezhen "High Fired: Motherhood" is the next stage of evolution of this theme. In her own words Diana is "exploring the emotional response of a mother to war and the impact that war has on mothers and their children. My work uses the fragility of humanity and porcelain to contrast with the objects of war and the perpetuation of violence in the world". The exhibition is curated by Jane Milosch of the Smithsonian Institution Washington D.C.
Significantly, the exhibition is in the prestigious Jingdezhen China Ceramics Museum. Opened in 1954 the museum has exhibitions from Neolithic times to the present day. The museum hosts exhibitions by artists of the highest calibre and a solo exhibition by non-Chinese is extremely rare. Diana's work is acclaimed in Jingdezhen by Chinese porcelain Masters, and her work has been exhibited and collected worldwide.
The exhibition runs until 18 September 2018 should you get the opportunity to visit.