Paintings on Silk – A Solo Exhibition by Carole Osmotherly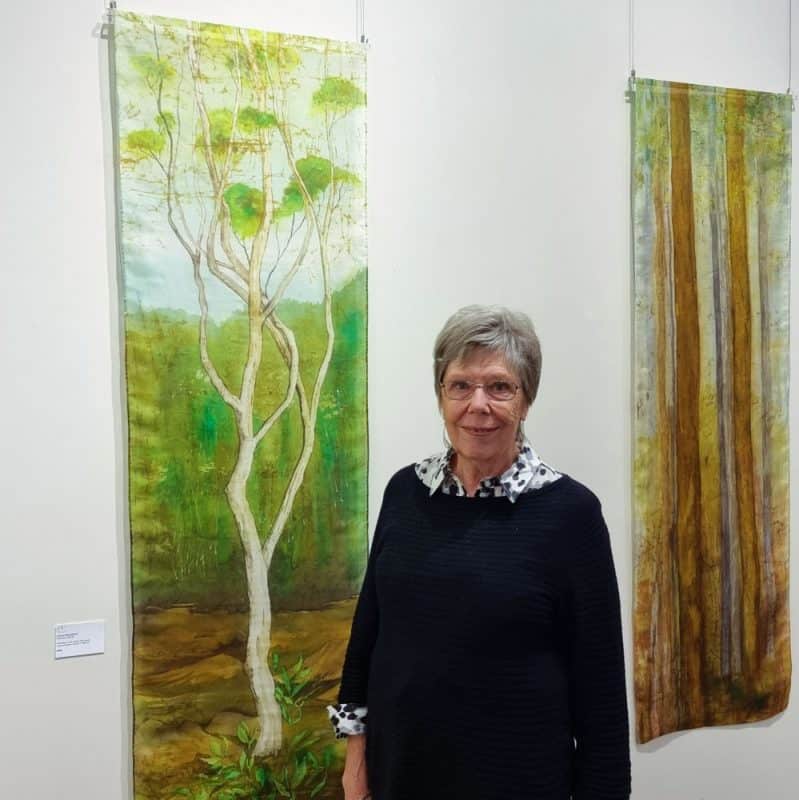 We thought you might like to know a bit more about Carole's background and her art.
Carole was born in England and was schooled in Reading, Berkshire. She later trained at The Royal National Orthopaedic Hospital London and University College Hospital London where she qualified as a Nursing Sister. Carole then joined Princess Mary's Royal Air Force Nursing Service as a Flying Officer and served in the Royal Air Force for two years. Carole met her Australian husband at a wild party in Swiss Cottage London and in 1968 moved to Australia. They lived in Sydney for a year before coming to Canberra.
After the birth of their first two girls Carole commenced Teacher training at Canberra University gaining a degree in Early Childhood Education and Special Education. Along the way she had two more daughters. Her teaching in Canberra always focused in special needs education. Carole's happiest time was at Cranleigh School where she taught for many years and was acting principal for one year.
In respect to her art Carole always liked painting and drawing but became interested in silk painting about 20 years ago when she did a workshop in Braidwood with Jill Burke. Over the years Carole has learned, and indeed continues to learn the techniques of working on silk using wax resist. In Carole's own words "The thing l like best about painting on silk is the challenge. It is a very unpredictable medium and has a way of taking me in all sorts of unexpected directions. I love the effects l get from mixing the colours and challenge of applying the wax in such a way that can create the images l want from those colours."
When asked about the subjects for this exhibition of trees Carole says that one or two are imagined, but the majority are inspired by photographs she herself took. Carole explains "They are not accurate reproductions. I have used the colours or the shapes from the photos and let my imagination and the silk take over."
Paintings on Silk runs until 16 May
For even more information about Carole's art you can listen to an interview conducted by Barbie Robinson from Living Arts Canberra