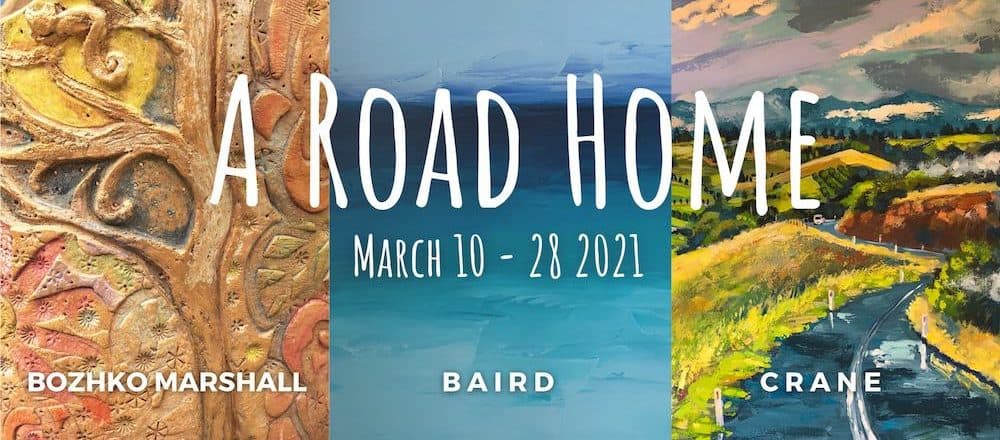 Free Delivery Australia Wide.
A Road Home – Group Exhibition
March 10 to 28, 2021
This expressive Exhibition features paintings, works on paper and ceramics which explore the road each artist travels and the significance of home.
For Baird, Bozhko Marshall and Crane, they define home as wherever they gather with their family and friends. For instance it can be the city; it can be the coast or somewhere in between. Houses get bought and sold; a home stays with you always.
With textured oil paintings and works on paper, Jennifer Baird has reflected on the meaning of home on an intimate level. Her body of work is a response to the emotions felt in various locations dotted throughout the coastal regions of NSW. From her first home with her husband Marcus to feeling at home by the sea, Jennifer particularly embraces the feeling of being hugged by Jervis Bay, South Coast NSW.
Ceramic artist, Elena Bozhko Marshall, has created imaginative clay vessels in her interpretation of her road home. Seeking to provide a gentle and earthly reminder that we are children of this universe, Elena considers all elements that we enjoy on this tiny blue planet called Earth. In her interpretation, she embraces her belief that home is made of family, past and present, kids, friends, having good people around, gardens, seasons, holidays, rainbows and stars in the sky. Elena hopes her vases and platters will unite people around the table to share food, joy and happiness.
Vibrant panoramic paintings by Valentyna Crane announce the beauty of the Canberra landscape with joy. Her impressionistic paintings portray her passion for the area, in which she invites everyone to fly over her much loved city and its hills in her body of work. It is the unique combination of wild nature and urban life, vast horizons and blue hills that nourishes her creative spirit, providing a burning desire to paint and to capture her feelings on canvas every day.
Earth, City or Sea. Together three artists will provide a rich and diverse experience for the patrons of the gallery. Come and explore the feeling of home with three Canberra Artists.