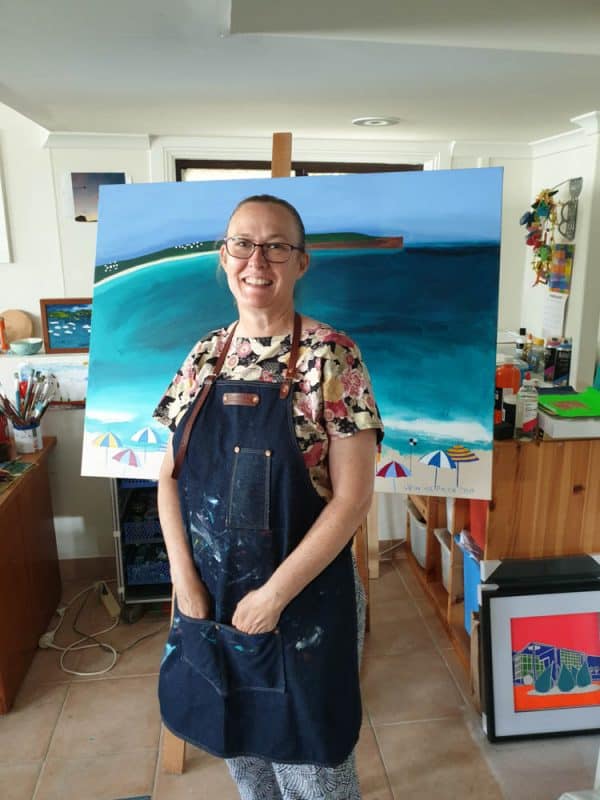 Jennifer Baird is a professional mid career artist, working across the mediums of painting, collage, lino and screen printing.
She moved with her family from Sydney to Canberra 10 years ago.
While it was not 'love at first sight' she enjoys the four beautiful seasons and her work has reflected a move towards landscapes.
The South Coast is only 2 hours away, and her seascapes, although no longer gouache remain ever present in her work. There has been colour palette development from blue and turquoise to the olives and browns of the Canberran landscape and a move towards a minimal style reflected in her recent oil paintings using a palette knife. Her recent collages have also reflected minimalism with abstract shapes from found papers and a continued interest in 2D plastic bag constructions.
Trained as a textile designer, she has reignited a passion for screen printing through the public access Megalo Print Studios. Printing on paper, in small editions of 10, Jennifer applies ink to the seascape prints and is also exploring abstract CMYK printing. 'I was meant to be a printmaker.. I love the sound of the squeegee pulling ink through the screen'.
Jennifer was the Joint Winner of the 2016 inaugural Sheridan Evans Art award for artwork relating to ocean pools, hand coloured lino print 'Pools of Sydney'. In 2017, Jennifer received Highly Commended in the print section at the Waverley Art Prize for her hand coloured lino print 'George Baldessin meets Andy Warhol' and has been a finalist in numerous Art Prizes, including the 2019 Haven Art Prize, 2018 Swanpool Creative Recycled Art Prize (SCRAP), 2018 Waverley Art Prize, The Shoalhaven Contemporary Art Prize 2017, plus more.