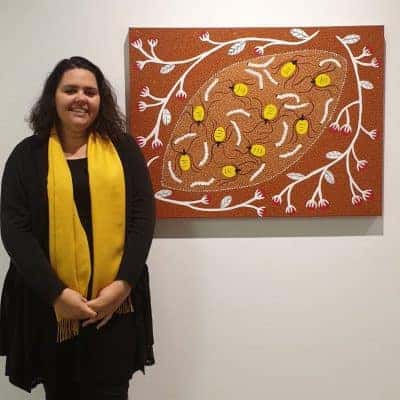 Kayannie Denigan currently lives and works in Canberra ACT
Kayannie (pronounced Kai-arnie) Denigan is a Luritja artist. She grew up in the remote Cape York community of Hope Vale and has strong connections the community and its peoples.
She is recognised as part of the Bagarrmuguwarra and Kuku Yalanji nations and as a Traditional Owner of that country.
Kayannie has connections to Iltjitjari and Unturu in Central Australia through her grandmother and great-grandmother respectively and to Buru, Starke and Yuku Budhuwigu on Cape York, through her step-father's family.
Kayannie's works predominantly in acrylic on canvas and her painting style was passed down to her from her grandmothers and utilises the iconic dots of Central Desert art.
Her art combines the desert way with the colours and stories of the Bagarrmuguwarra and Kuku Yalanji people of Far North Queensland.
She is able to merge the contrasting styles of her heritage and upbringing to create her own unique style. Kayannie has recently begun working in copper, brass and silver to create contemporary jewellery and items that reflect and enhance her practice.
Kayannie was a 2019 Finalist and acquired artist—Contemporary Wearables Biennial Jewellery Award, Toowoomba Regional Gallery, Toowoomba Qld, 2019 Finalist—Agendo Art Award, Camberwell Grammar School, Melbourne Vic, 2016 Winner—Cliftons Art Prize, Canberra ACT, 2016 Finalist—Inner North Art Prize, Canberra ACT, and a 2016 Finalist—Goulburn Art Award, Goulburn Regional Art Gallery, Goulburn NSW
Her works are included in the Cliftons Art Collection, Canberra ACT, and the Collection of the Toowoomba Regional Art Gallery, Toowoomba Qld.