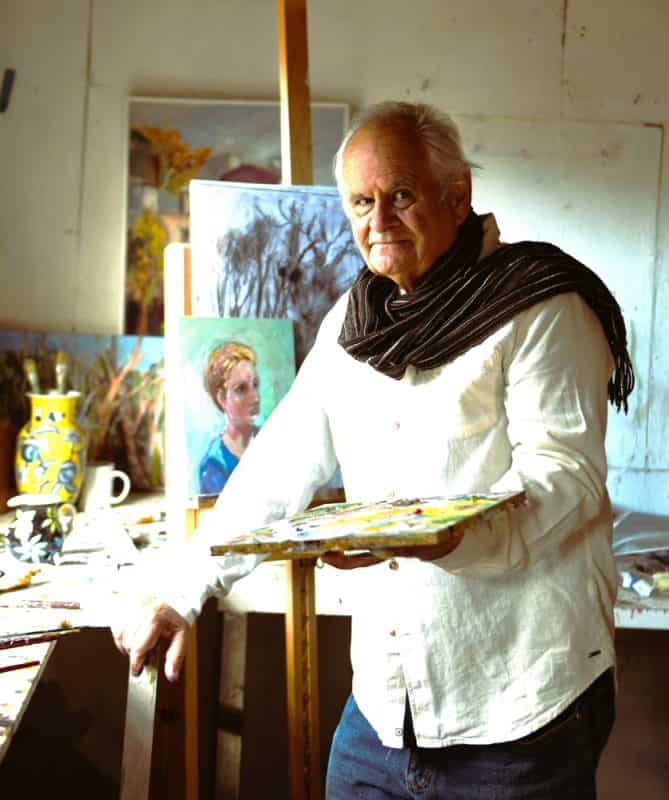 Phillip Russell is best known for his landscape paintings of Australia's natural bushland. Working in an impressionistic style mainly in oils, he is a bold colourist, transforming his subject-matter with a dramatic and vivid palette and being particularly attracted to complexity in the landscape.
Working rapidly in his studio after choosing elements that appeal to him from a location, from a photograph he has taken or from his own imagination, he roughs out the major forms for the composition and begins immediately to apply colour broadly in an instinctive way. Listening to what a painting has to say and letting it take on its own character without predicting the outcome, the emphasis is on the act of painting and the character of the brushwork and pigments themselves.
Phillip grew up in Sydney where he first took art lessons after school at the age of sixteen at Joe Holloway's Art Studio in the Haymarket. As a graduate of the Julian Ashton Art School, Sydney and from Newcastle University BFA (Hons), Phillip has exhibited extensively in Australia.
Selected Exhibition History
9 Nov – 12 Dec 2023 SHAC, Bowral, Collector's Choice
3 May – 3 June 2023 Rochfort Gallery, North Sydney NSW, Before They Drift Away
2019 Rochfort Gallery, North Sydney NSW, Christmas Exhibition
2019 Rochfort Gallery, North Sydney NSW, Silhouette
2016-2019 Gallery ONE88 Fine Arts, Katoomba NSW 2780
2007-2023 Bowral Art Gallery, Bowral, NSW
2007-2012 The Bell Gallery, Berrima NSW
1976 – 2002 Von Bertouch Galleries, Newcastle: annual 'Collector's Choice'
1978 The Mosman Gallery, Sydney
1977 The Macquarie Galleries, Sydney
Collections
Acquisition of a painting by the Rotary Club of Turkey. 1997
Acquisition of paintings to UK and USA. 1995-97
Acquisition of two paintings in the Commonwealth Collection, Sydney. 1990
Landscape painting purchased for the Douglas Moran Collection. 1986
Murdoch University S.A. Art Requisition: painting selected by Clifton Pugh. 1980
Acquisition of "Blue Mountains Landscape" and "Farm Landscape" by the Reserve Bank of Australia, 65 Martin Place, Sydney, through the Macquarie Galleries.1973 and 1974
(Work is represented in private collections in Australia and overseas)
Selected Awards
Finalist        NSW Parliament Plein Air Painting Prize. 2015
People's Choice Prize. David Turnbull Prize, Bowral Art Gallery, NSW. 2010
First Prize    Mungindi NSW Art Show Open Section. 2001
Judge Graham Marchant
First Prize     Gunnedah NSW Art Show Open Section. 2000
Judge Jocelyn Maughan.
First Prize    Mungindi NSW Art Show Landscape Prize. 1999
Judge Robin Norling
First Prize     Murrurundi NSW Biennial Art Exhibition, Contemporary Section. 1998.
Judge David Taylor
First Prize    Bingara NSW Bicentennial Art Exhibition. Traditional Landscape in Oils. 1988. Judge Jean Isherwood
Second Prize Gunnedah and District Art Society, Open Section. 1983
First Prize     Campbelltown NSW Fisher's Ghost, Landscape Prize. 1979                       Judge John Olsen.
First Prize      Blackheath NSW Rhododendron Festival Art Prize. 1979
Judge Reinis Zusters
Phillip Musket Landscape Painting Prize; Julian Ashton Art School. 1979
Publications
Art guide Australia, July/August 2019, P 176