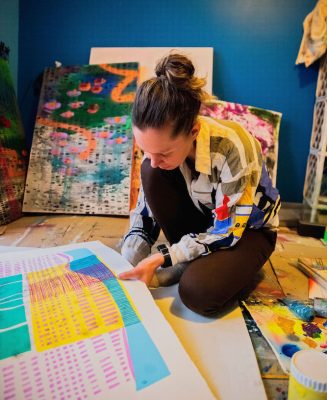 Tarli Bird's art practice involves creating artworks that communicate the vibrancy of our surrounding world.
Since graduating from Monash University with a Masters in Fine Art, Bird has been exhibiting regularly around Australia.
Bird is inspired by her love of travelling and maps and uses her travels as inspiration to help stimulate interiors so they emulate the energy our surrounding world.
With each hand printed screen print, the artist notes various routes or special locations that hold significance to the artist.
Tarli is happy to pinpoint additional special routes and areas for the collector, in the past these have included commute routes and riding / running routes.
Working with a range of materials such as screen printing, spray paint, acrylic paint and hand embroidery Bird hopes to create artworks with layers of detail that encourage an enquiring eye.