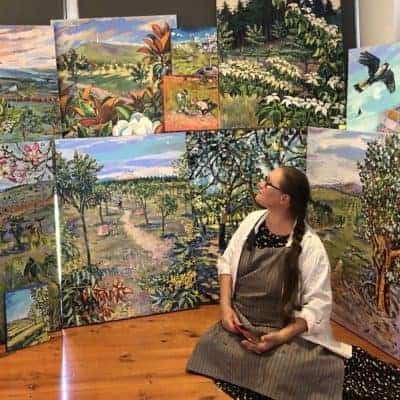 Valentyna Crane has an emphasis on joy and happiness of our everyday life through her paintings. It gives energy to embrace the world with the positive attitude.
Valentyna Crane follows Contemporary Impressionism, the style that focuses on the effects of changing light and weather, concentrates on feelings of moving air and emotions of the particular landscape scene. Valentyna is a professional landscape painter committed to her art and the people who appreciate it. She received her professional training in one of the oldest (founded in 1922) art schools on the territory of former USSR, with clear lineage to the famed Imperial Academy of Arts, one of the organisations that adopted Impressionism from its French creators, developed it and brought it into the 20th Century. She also holds Masters degree in Architecture and Landscape Design.
Yet Valentyna is an Australian artist, who re-discovered the techniques and knowledge she learned in a very different place, in the context of the nature, history and social fabric of Australia.
Valentyna was the Winner of the First Prize at the Royal Canberra Art Show 2019, Finalist of the Southern Buoy Studios Portrait Prize 2019, Highly Commended Award from Artists Society of Canberra; Exhibition "Space and Spaces" 2019