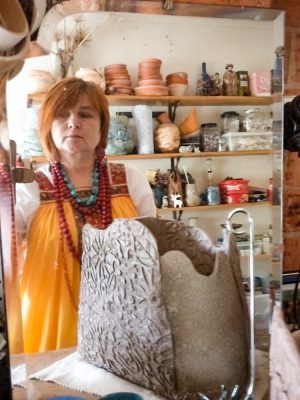 Ceramic artist, Elena Bozhko Marshall, has created imaginative clay vessels in her interpretation of her road home.
Seeking to provide a gentle and earthly reminder that we are children of this universe, Elena considers all elements that we enjoy on this tiny blue planet called Earth.
In her interpretation, she embraces her belief that home is made of family, past and present, kids, friends, having good people around, gardens, seasons, holidays, rainbows and stars in the sky.
Elena hopes her vases and platters will unite people around the table to share food, joy and happiness.
Elena Bozhko Marshall is a ceramic and mix media artist. She possess a teaching degree and several art related diplomas. She has a diploma in visual art and craft from Canberra Institute of Technology and graduated from the ANU School of Art and design in 2001.
Elena exhibited with the Belconnen Arts centre, the Tuggeranong Arts Centre, ANCA, Multicultural Centre and Civic Library as well as took part in several community projects and workshops for children, seniors and people with special needs. Her involvement with the community and children has helped shape her thinking and style.
Elena's education and rich cultural background, and with extensive travel to more than 25 countries, gives her a good, solid understanding of life and inspiration for her art works.
For the past 23 years leaving in Canberra Elena put all her passion for Art (especially ceramics) in teaching young generation in various schools and art centres. She has a small studio at home where she create her works.