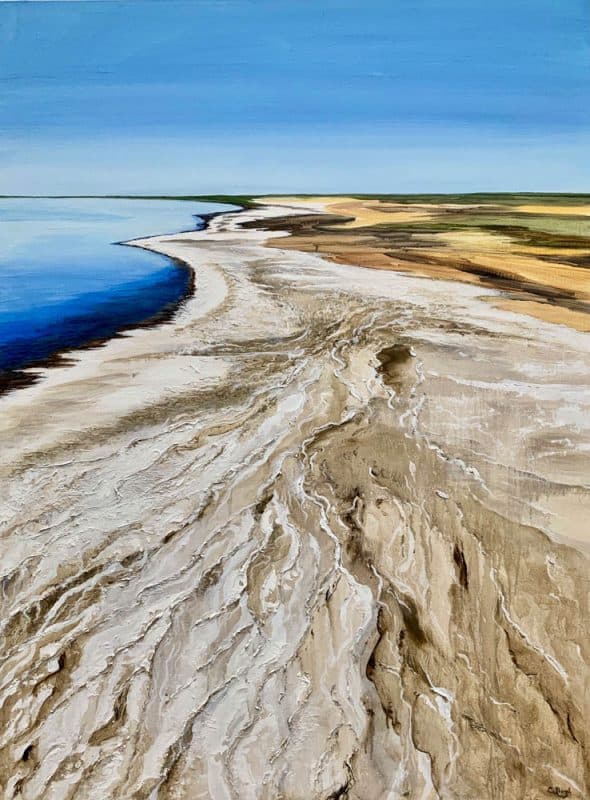 Flinders Ranges to Birdsville
A journey with my brush
5 March to 10 April
Solo exhibition by Chrissie Lloyd
Paintings capture a moment in time.
My love for the vast open spaces of Australia is, I hope, evident in my artworks. The depth and richness of colour in outback Australia has to be seen to be believed. In the driest landscape turning over a stone reveals a deeper hue.
Skies:  a clarity of blue so clear it takes my breath away.
Soil and rocks:  rich red oxides, ochres, sulphur; soft creams to whites in clay; mauve and the palest lilac; multi hued sandstone cliff faces.
Gum leaves:  the softest celadon to rich dark green and pinks to deep maroon.
Shadows:  pale greys to inky darkness.
Water:  vibrant to pale aqua to the deepest viridian, soft sandy taupe to dirty browns in Kata Thandi (Lake Eyre); palest of blue/greens in the Channel Country.
Whilst painting I not only have a feeling for the scene I'm portraying. In my mind's eye I can see and feel the surrounding areas, the heat emanating from rocks, the crunch of pebbles under my feet, the dead leaves and bark accumulating to eventually break down and become a part of nature's food chain giving back nutrients to small plants and undergrowth as well as magnificent stately trees.
I touch the trees, closing my eyes as if to feel the energy beneath my fingertips. The inherent majesty of trees captures my imagination whether canopies reach for the sky or they are sculptural in their demise.
I look closely at rocky creek beds noting the variations of colour. I'm always drawn to rocks whether they be enormous boulders or little pebbles guiding my way. They are part of earth's history broken down by time and weather.
This is the joy and gratitude I feel as I journey through the landscape with my brush.
As an addendum, perhaps I might 'borrow' from Dorothea Mackellar's poem "My Country" which in word form would seem to epitomise this 'journey with my brush'.
The second and most famous verse:
I love a sunburnt country,
A land of sweeping plains,
Of ragged mountain ranges,
Of droughts and flooding rains.
I love her far horizons,
I love her jewel-sea,
Her beauty and her terror –
The wide brown land for me!
The "ragged mountain ranges" would be the Flinders and "her jewel-sea" would be Kati Thanda (Lake Eyre) in flood.
All welcome for the opening at 2pm Saturday 5 March.
Please note paintings will be available from the website 10am Friday 4 March. There will also be an exhibition preview at the gallery on that day if you cannot come to the opening on Saturday.