Room to Breathe
Solo exhibition by Josephine Townsend
29 October – 27 November
A celebration in ceramics of the joys of living in Canberra, the space, the light, the clear air and the beauty in and around our city. Around every corner is a new vista, a new moment to stop, breathe and enjoy. This exhibition focuses on three well loved Canberra vistas, the majestic Brindabella Ranges, our expansive parks and bushland, and our more intimate leafy streetscapes.
The imagery on the works in this exhibition has been created either by painting and carving the surface or by using the nerikomi method where the colour is all through the vessel.
A range of different clays, from earthy dark stoneware to delicate translucent porcelain have been used to create different moods and effects.  Endless testing helps the artist to understand and predict the final look, but the kiln always reveals a few surprises..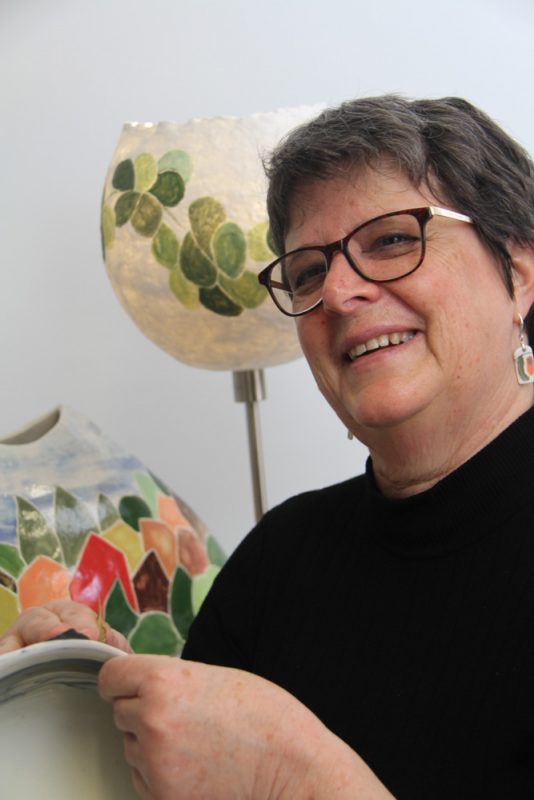 Josephine Townsend is a ceramic artist fascinated by colour, form and pattern. In this exhibition she is exploiting the unique characteristics of a range of clays, and techniques for adding colour and pattern. She works out of her home studio in Canberra creating an eclectic range of works, including vases, tableware, sculpture, wall art, jewellery and lighting. After careers in teaching and the public service, Josephine is now a full time ceramic artist and a part-time teacher of ceramics.