Humble House gallery – about us & our values
Acknowledgement of country

Humble House gallery acknowledges the traditional custodians of the Canberra region, the Ngunnawal people.
We respect and celebrate the continuing Ngunnawal culture and the rich contribution that Ngunnawal people, and other Aboriginal and Torres Strait Islander peoples, bring to our community and to our understanding of the country that surrounds and nurtures us.
Want to make a statement furnishing your home? Let's turn it into a story.
From time immemorial, in China's Zhejiang region when a girl was born a camphor tree was planted; when a boy was born a phoenix tree was planted. These trees were made into furniture when the girl and boy were old enough to marry and the furniture would accompany them through their lives and those of their descendants.
This long held practice of conservation of the environment and resources exemplifies our belief that material goods have immortality. These hand-crafted pieces were made to last from generation to generation.
Since 1998, Humble House has embraced traditional craftsmanship and contemporary art.
The team at Humble House
Roger and Weilian Carter own and operate Humble House gallery. You will mostly see Roger at the gallery while Weilian guides the workshop in China and goes on buying expeditions. A few years ago Roger's brother Andrew re-located to Canberra from Melbourne to join the team.
We love what we do and the glow of joy on people's faces when they see their room transformed makes all the hard work worthwhile. For relaxation we both enjoy swimming. Roger is studying cooking and patisserie so don't be surprised if you a see a food photo on our social media page.
In 2019 we instituted an art exhibition program. Kylie Fogarty took on the role of Exhibition Manager and Curator. Kylie is an established artist in her own right but she also brings a wealth of curatorial experience. Her roles in this field include: Artist Liaison for the Gungaderra Community Arts Program: Co-curator of SQUARES, People's Choice Exhibition, Strathnairn Arts; Curator, Harrison Art Show and Gallery Manager and Curator of Stirato Gallery.
Join our enewsletter to get news about upcoming art exhibitions, inspiration and tips for interior design as well as stories about artists and craftsmen.
Humble House gallery – Beginnings
While living in Beijing in the mid-90s we fell in love with the furniture – the designs, timber, joinery and the history. We met world-renowned experts including Mr Wang Shixiang. The problem was the growing trend towards invasive repairs including stripping, bleaching, shortening to make the furniture fit in modern homes. We wanted our furniture to be as close to original as possible and we knew others felt the same way. What follows is a little bit about that journey and where we are now.
Our workshop and our network of artists and craftsmen
The workshop was established to undertake the conservation and restoration of the furniture. We originally set it up in Beijing but more recently moved to Fujian province in southern China. Our craftsmen respect the work of the original maker. Every effort is made to retain the patina, "as much as necessary, as little as possible" best describes their approach to the work. Some processes such as realigning a plank can take weeks. Time doesn't matter, it is about getting the right result.
Through our growing network we learn about people and what drives them. This has brought us to meet artists from different disciplines and admire their creations. For example, Huang Wentao comes from a family of master porcelain artists and he has mastered an old and difficult painting technique where the ink is pushed out of the brush without touching the surface. Li Xinsheng is a watercolour artist whose landscapes are inspired by the natural beauty of his home region of northern China.
When we couldn't find table lamps that were up to our standard, we decided to design our own. This has led to forming close working relationships with the creators and manufacturers of the vessels used to form the lamp body and technicians who make each shade by hand and bring all the parts together for the final product.
Canberra showroom, art gallery and museum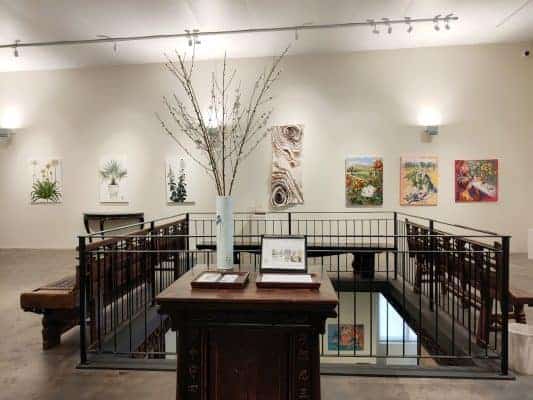 The gallery is a showcase of antique furniture and contemporary art showing how they come together in modern homes. The first thing you will notice is its size. There's a total of over 600 square metres. Upstairs is a furniture museum that is unrivalled in Australia for its pieces of historical and cultural significance. Next to the museum is a dedicated art gallery used for major exhibitions.
The ground level is a combination showroom of antique furniture with 2 very recently constructed art gallery rooms. Each room is 4.2mtrs wide x 5mtrs deep. The walls are 2.4mtrs high. These rooms are perfect for smaller exhibitions of 15 – 20 works.
Exhibitions change on a regular basis showcasing the rich diversity of talent by artists from Canberra and the surrounding region, interstate and overseas.
We share our knowledge. Each piece of furniture comes with a document that tells the background, provenance, symbolism and insurance value. We often give lectures about Chinese furniture to woodworking students and other groups who want to know more about this fascinating topic. You are welcome to come in for a chat and a cup of coffee.
"When I enter this establishment, I am transported into another world; it's a world of peace and tranquillity, a world awash with culture and 'objets d'art', infused with love and artisan skill, emanating from a culture that is renowned for its ancient wisdom, and… I feel at peace." Suzanne Kiraly The RIOTACT Bucking the Trends #16 12 June 2017

You can read the full article here