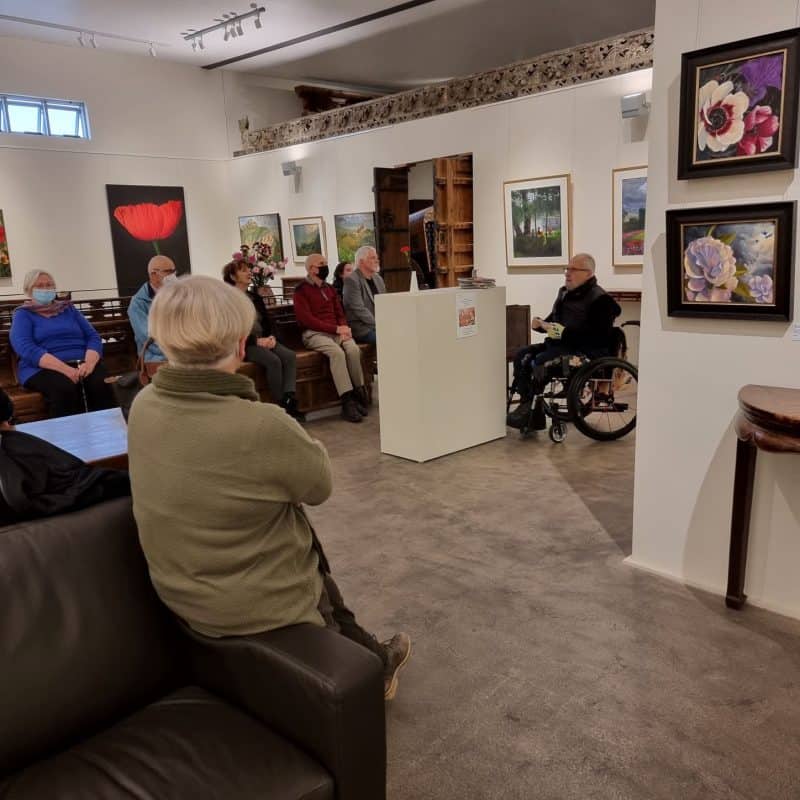 Humble House gallery welcomes enquiries from artists
Humble House gallery spans two levels with over 600 square metres of display space featuring a art galleries, antiques showroom and museum.
Major art exhibitions by established individual artists or themed exhibitions by groups are held in the dedicated art gallery space located on the upper level adjacent to the museum. Access to the gallery is via stairs from the downstairs showroom/gallery through the museum or a lift from the showroom to the art gallery. The art gallery is approximately 130 square metres with large walls 4 metres high.

Upstairs gallery: Artist talk by Roger Beale AO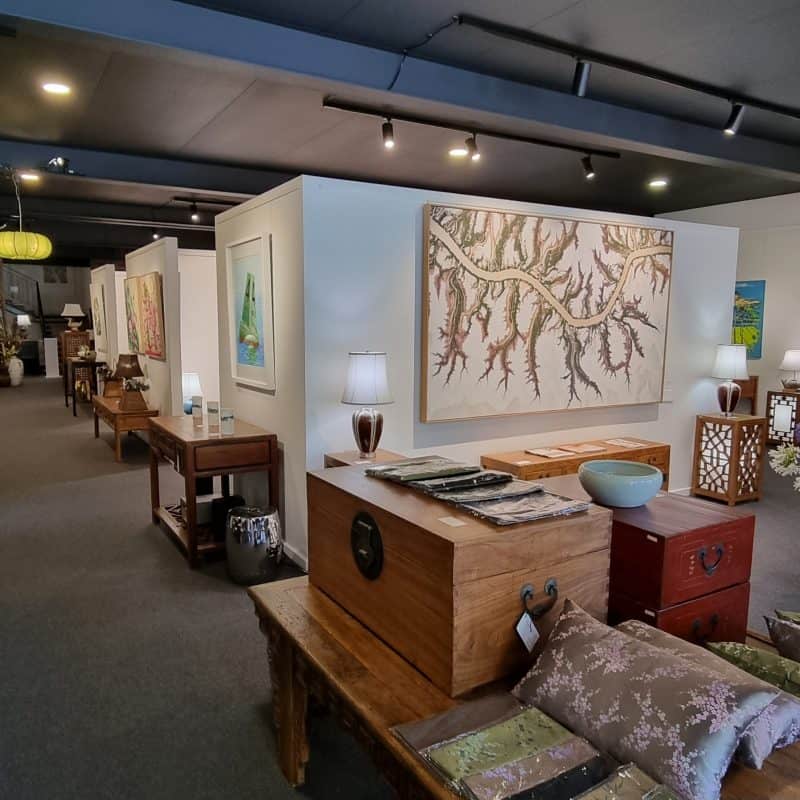 The ground level is a combination showroom of antique furniture with 2 very recently constructed art gallery rooms. Each room is 4.2mtrs wide x  5mtrs deep. The walls are 2.4mtrs high, entries are on the 5mtr sides. These rooms are perfect for smaller exhibitions of 15 – 20 works.
Exhibitions change on a regular basis showcasing the rich diversity of talent by artists from Canberra and the surrounding region, interstate and overseas.
Our clientele are generally over 30 years of age, well educated and well travelled. They appreciate good quality, well-designed, well made, individual and unique items of furniture and art. We host exhibitions by emerging, mid-career and established artists. Our walls all have a hanging system and we have plinths for displaying object exhibitions.

Ground floor gallery and showroom
We are currently welcoming Expressions of Interest (EOI) from artists interested in participating in the following art exhibition programs.
2023 Online Exhibitions on the Humble House gallery website
Solo, Joint or Group Exhibition, featured on a dedicated exhibition page.
For more information please click on the link below and complete the online form.
2023 EOI Online Exhibitions Now Open 
2024 Humble House gallery Art Program
Exhibition Expressions of Interest are now being accepted for solo, joint or group exhibitions.
For more information please click on the link below and complete the online form. We already have bookings but we have capacity for a couple of major exhibitions upstairs and several on the ground floor for 2024, use the attached form and we can discuss the preferred option. Or email us.
2024 EOI HHg Art Program Now Open 
To keep up to date with current and upcoming exhibitions, please sign up for the HHg newsletter.
For any enquires, please email exhibitionmanager@humblehouse.com.au