Terms and Conditions – Online Exhibitions
Set out below are the terms and conditions for Humble House gallery (HHg) Online Art Exhibitions. Please read them carefully.
Gallery Hours
Humble House gallery website is available 24 hours.
SUMMARY OF RESPONSIBILITIES AND FEES
Artist responsibilities
●       Pay $500 exhibition fee
●       Provide images and text for each artwork
●       Promote the exhibition through links to the HHg Exhibition page on the artist's website, social media pages and client lists
●       Keep HHg informed of any sales that have occurred direct to the artist of the art included in the online exhibition, both during the online exhibition and also the three-month post-exhibition period
Humble House gallery responsibilities
●       Promote the exhibition through digital media
●       Promote the exhibition to the gallery's clientele
●       Offer artworks for sale through the gallery website
●       Monitor the exhibition on a daily basis
●       Manage and process sales
●       Assist with arranging delivery of artwork where necessary
●       Keep artist updated with any sales or enquiries about artwork
●       Online exhibition administration
EXHIBITION DETAILS
Fees
The online exhibition fee is $500 for a four-week period.
30% commission on all sales and commissions.
Exhibition Format – Online platform
A dedicated exhibition page on the Humble House gallery website www.humblehouse.com.au
The exhibition is for four weeks, after which the exhibition will be transferred to a dedicated Artist page for a further three months.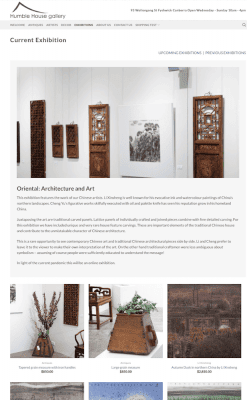 Online Exhibition Page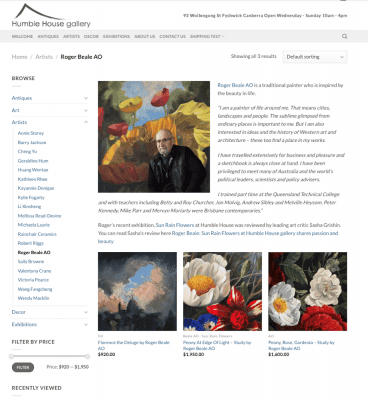 Post Exhibition – Artist page with art catalogue
Publicity
Humble House is committed to making each exhibition as successful as possible.
To promote the exhibition to a wide audience each exhibition is:
●       Featured in an Exhibiting Artist blog post
●       Promoted to Humble House clients on the HHg enewsletter;
●       Actively promoted through social media; and
●       Linked from Humble House website to your website and social media pages.
Documentation
So we can promote your art and make the exhibition a success you will need to provide:
Catalogue
The artist will provide a digital catalogue of the exhibition in the following format no later than 3 weeks before the opening.
Word document in Arial 12 font
Title page: This includes the name of the exhibition, the artist's name and a lead image.
Artist bio: Information about the artist and background information about the exhibition.
Thumbnail image of each artwork
Title: e.g. Green Flowers at Daybreak
Price: e.g. $2500
Media: e.g. Acrylic on canvas
Dimensions: e.g 75 cm H x 67cm W
Year: e.g. 2023
Frame: e.g. White timber frame with glass
Artist Statement for each artwork (If applicable) A  brief paragraph about the individual artwork.
This catalogue is used for preview distribution via email to potential collectors. It is the base document for listing the exhibition on the website, therefore the format and font is important to undertake these tasks efficiently.
Large Images
In addition to the thumbnails for the catalogue high quality images of 1-3MB of each artwork is required. Also supply 1 image of the artist either in their studio or near an artwork. Please note that these images are processed through Adobe so they are a small size when they are on the website.
These are to be supplied no later than 3 weeks before the opening.
In providing images you agree to grant Humble House gallery with a perpetual, irrevocable, royalty free, non-exclusive, worldwide licence to use, reproduce and adapt those images for promotional purposes only and to store those images for archival purposes. Copyright remains with the respective artist.
Health and Safety
While this is an online exhibition you must still comply with the requirements of the Work Health and Safety Act 2011. A copy is available at https://www.legislation.act.gov.au/View/a/2011-35/current/PDF/2011-35.PDF
Your artwork must be ready to hang using art gallery standard hanging materials appropriate for the size and weight of the artwork. You will be responsible for any costs incurred by a collector associated with hanging and/or damage as a result of unsuitable hanging materials. This may also include the cost of rehanging and shipping the artwork.
Humble House gallery reserves the right to refuse to list or exhibit works if they are considered to detract from the image of the gallery as a professional exhibition space.
Exhibition running
You will need to actively promote the exhibition throughout the event. This includes listing it on your website and social media pages. Discuss with the gallery if you know of other media outlets willing to promote the exhibition.
Exhibition closing
You are responsible for keeping the gallery updated on any sales or commissions during the period of the exhibition plus the three months post exhibition. Works included in the exhibition are to be exhibited with Humble House gallery only until the four month period is over.
Gallery staffing
Humble House gallery staff will look after your exhibition after the opening. We will e-greet customers, converse with collectors and answer any online enquiries to provide information about the art.
Insurance and liability
Humble House gallery has Public Liability Insurance. All other insurance is your responsibility, including works in transit and other artwork insurance.
Humble House gallery will not be responsible for any loss or damage to any works, art or property during the exhibition period.
Humble House gallery is not responsible for expenses incurred by the exhibitor, any claims made against the exhibitor as a result of the exhibitor exhibiting with Humble House gallery.
Sales
All sales transactions are processed through the gallery with proceeds banked into the gallery's business bank account. Artwork can be purchased using Visa, Mastercard, debit card, cheque or cash. Humble House does not accept Amex or Diners Card.
Deposits can be placed with the balance paid prior to the exhibition closing.
Online sales are processed through the website's ecommerce facility.
All sold works are to be delivered to the collector directly from the artist's studio.
Commission
Humble House gallery charges 30% commission on all sales.
The artist is responsible for ensuring that any exhibiting artist represented by a gallery, that is not Humble House gallery, has permission from that representing gallery to exhibit at Humble House gallery. Any share of commission due to the representing gallery and to Humble House gallery will be negotiated by the artist, Humble House gallery and the representing gallery.
Exhibition fees
The online exhibition fees are as noted above with a minimum period of 4 weeks. The $500 fee is to be paid at least 2 months prior to the exhibition commencing.
Reconcilement
Humble House gallery will reconcile sales and pay you within 30 days from the end date of the initial four week exhibition for the total amount collected less commission fees of 30%. Sales made during the subsequent 3 month period will be reconciled within 7 days of the sale.
A Tax Invoice / Receipt from Humble House gallery will be supplied.
Cancellations
Should you cancel your exhibition, you must notify Humble House gallery in writing. Your exhibition fee will be refunded if you cancel more than 30 days before the opening. There is no refund if you cancel 30 days or less before the opening.