Terms and Conditions – Online Exhibitions
Set out below are the terms and conditions for Humble House gallery (HHg) Online Art Exhibitions. Please read them carefully.
Gallery Hours
Humble House gallery is open Wednesday to Sunday 10am – 4pm
SUMMARY OF RESPONSIBILITIES AND FEES
Artist responsibilities
●       Pay exhibition fees
●       Provide images and text for each artwork
●       Invite collectors to the online opening
●       Promote the exhibition through links to HHg Exhibition pages on the artist's website, social media pages and client lists
●       Keep HHg informed of any sales that have occurred direct to the artist of the art included in the online exhibition, both during the online exhibition and also during the three-month period post exhibition.
Humble House gallery responsibilities
●       Promote the exhibition through digital media
●       Promote the exhibition to the gallery's clientele
●       Offer artworks for sale through the gallery website
●       Assist with curating artwork
●       Assist with the exhibition opening
●       Staff the exhibition on a daily basis
●       Manage and process sales
●       Assist with arranging delivery of artwork
●       Keep artist updated with any sales or enquiries about artwork
●       Online Exhibition administration including creation of Online Exhibition Pages
EXHIBITION DETAILS
Fees
30% commission on all sales and commissions received during this time.
Exhibition Format – Online platform
This agreement is for hire of space on the Humble House gallery website with a dedicated Exhibition page.
www.humblehouse.com.au
The online Gallery hire is $525 for a four-week period.
The Exhibition will be offered online on an Online Exhibition page for a period of four weeks, after which the exhibition will be transferred to a dedicated Artist page and catalogue for a further period of three months.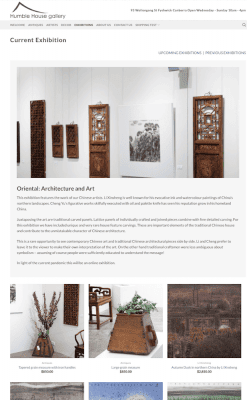 Online Exhibition Page
After the exhibition period, the catalogue will be transferred to an Artist page / catalogue, which will remain on the website for a period of three months.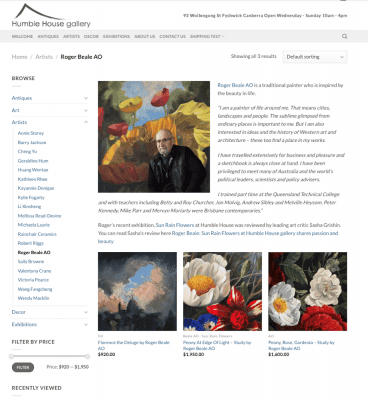 Post Exhibition – Artist page with art catalogue
Publicity
Humble House is committed to making each exhibition as successful as possible.
To promote the exhibition to a wide audience each exhibition is:
●       One digital advertisement in a monthly enewsletter such as Art Almanac (approx. $275 value)
●       Featured in an Exhibiting Artist Blog post
●       Promoted through a media release for online promotion;
●       Promoted to Humble House clients on the HHg enewsletter;
●       Actively promoted through social media; and
●       Linked from Humble House website to your website and social media pages.
Documentation
So we can promote your art and make the exhibition a success you will need to provide:
●       Artist Profile Photo – Next to your works or a quality image of you working in your studio, sized at 1000 pixel x 1000 pixel
●       Artist Bio
●       Current CV
●       Artist Statement regarding the Exhibition, total of 300 words.
●       Artist statement concerning the work to be exhibited – 1-2 Sentences concerning each artwork.
●       High quality images of each artwork sized at 1MB – 3MB
●       One nominated Artwork Image for the use in digital Invitations, where there is a group exhibition, one image each.
●       Description of each artwork including : Title Size Medium Artwork description/influence Year Created Price
●       HHG ask that each image (between 1-2mb)  is named in the following format:
ArtistName_Title_Medium_Size_Year_Price.jpeg
Eg KylieFogarty_IncomingSquall_MixedMedia_45x65cm_2017_$700.jpeg
Please note: Suitable high quality (1MB or higher) images of artworks in the exhibition to Humble House gallery is required for the promotion of the exhibition by Humble House gallery.
In doing so you agree to grant Humble House gallery with a perpetual, irrevocable, royalty free, non-exclusive, worldwide licence to use, reproduce and adapt those images for promotional purposes only and to store those images for archival purposes. Copyright remains with the respective artist.
Invitations
Two weeks prior to the exhibition Humble House will send out a media release and post on the Humble House social media sites. In addition, Humble House will submit the exhibition to the local What's On features throughout Canberra.
One week prior to opening, electronic invitations will be sent to Humble House gallery's mailing list. Additional promotional opportunities are continually being sought.
Catalogue
An electronic version of the catalogue is to be delivered to the exhibition manager 3 weeks prior to the opening to allow for preparation of the exhibition online.
Health and Safety
While this is an online exhibition you must still comply with the requirements of the Work Health and Safety Act 2011. A copy is available at https://www.legislation.act.gov.au/View/a/2011-35/current/PDF/2011-35.PDF
Your artwork must be ready to hang using art gallery standard hanging materials appropriate for the size and weight of the artwork. You will be responsible for any costs incurred by a collector associated with hanging and/or damage as a result of unsuitable hanging materials. This may also include the cost of rehanging and shipping the artwork.
Humble House gallery reserves the right to request that some/all of the works removed should the overall presence detract from the image of the gallery as a professional exhibition space.
Exhibition Opening
Attendance at the opening is strongly encouraged to meet and greet guests and clientele. If you are unable to be available for the opening please advise the gallery as soon as possible to discuss.
Your clients are your best followers and represent the best chances for sales. Consider whether to invite a select number to the opening or invite everyone on your mailing list.
Online Exhibition openings are held on Thursday nights at 8pm. Other times can be discussed with the Exhibition Manager.
Exhibition running
You will need to actively promote the exhibition throughout the event. This includes listing it on your website and social media pages. Discuss with the Exhibition Manager if you know of other media outlets willing to promote the exhibition.
Exhibition closing
You are responsible for keeping the gallery updated on any sales or commissions during the period of the Exhibition plus the three months post exhibition. We ask that works included in the exhibition be exhibited with HHg only until the four month period is over.
Gallery staffing
Humble House gallery staff will look after your exhibition after the opening. We will e-greet customers, converse with collectors and answer any online enquiries to provide information about the art.
Insurance and liability
Humble House gallery has Public Liability Insurance. All other insurance is your responsibility, including works in transit and other artwork insurance.
Humble House gallery will not be responsible for any loss or damage to any works, art or property which you bring onto the premises during the installation, exhibition or deinstallation period.
Humble House gallery is not responsible for expenses incurred by the exhibitor, any claims made against the exhibitor as a result of the exhibitor's use of the gallery, or injury or damage caused by unsafe practices during installation or de-installation.
Sales
All sales transactions must be processed through the gallery with proceeds banked into the gallery's business bank account. Artwork can be purchased using Visa, Mastercard, debit card, cheque or cash. Humble House does not accept Amex or Diners Card.
Deposits can be placed with the balance paid prior to the exhibition closing.
Online sales are processed through the website's ecommerce facility.
All sold works are to be delivered to the collector directly from the artist's studio. HHg will assist in organising a courier for this purpose.
Delivery of sold works and return of unsold works 
The gallery will notify the artist of sold work for collection by the collector or their agent. Humble House gallery will contact the collectors to arrange delivery of the sold works.
Works sold at the gallery will be shipped at the collector's cost unless otherwise arranged with the artist.
Commission
Humble House gallery charges 30% on all sales plus commissions during the exhibition.
The artist is responsible for ensuring that any exhibiting artist represented by a gallery, that is not Humble House gallery, has permission from that representing gallery to exhibit at Humble House gallery. Any share of commission due to the representing gallery and to Humble House gallery will be negotiated by the artist, Humble House gallery and the representing gallery.
Exhibition bond, fees and deposit
The Online gallery hire fees are as noted above with a minimum hire of 3 weeks.
Once you have been advised that your application to exhibit has been approved and a date for your exhibition has been set:
·       You will need to pay a 20% hire fee deposit within 14 days of advice about your exhibition booking.
·       The balance of your exhibition hire is to be paid 7 days before your exhibition opening.
For example, an exhibition period of three weeks is $525. A deposit of 20% = $105 will be required to secure your exhibition. The remaining $420 is to be paid 7 days prior to the exhibition opening.
You will receive a receipt for each payment.
Reconcilement
Humble House gallery will reconcile sales and pay you within 30 days from the date of cessation of the exhibition for the total amount collected less commission fees of 30%.
Artists who sell their artwork during the exhibition will receive a Tax Invoice / Receipt from Humble House gallery stating the exhibition, exhibition dates, title of artwork, sales price, commission price and the collectors name (for documentary purposes only). If permission has been granted by the collector for the artist to contact them directly, a contact email will also be provided.
Cancellations
Should you cancel your exhibition, you must notify Humble House gallery in writing.
Refunds of the gallery hire deposit payment will be subject to the following conditions:
A full refund will be provided if written advice of your cancellation is received more than 3 calendar months before the commencement of your exhibition.
A partial refund of 50% will be provided if written advice of your cancellation is received between 3 calendar months and 8 weeks before the commencement of your exhibition.
No refund will be provided for cancellations within 8 weeks of the commencement of your exhibition.