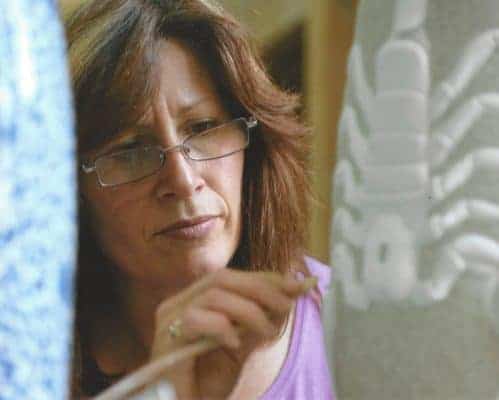 Since 2004, artist Diana Williams has been an invited resident artist in Jingdezhen, China at the studio of Great Sculpting Master Professor Liu Yuanchang, one of China's National Living Treasures.
Short history about Jingdezhen 
Jingdezhen is situated in Jiangxi Province and is one of the most significant cities in China and the world for porcelain production and innovation. Jingdezhen began to produce ceramic wares during the Warring States Period (481 – 221 BCE). It became particularly important during the Song Dynasty and the production of true porcelain first began around the 10th Century AD.
During the Tang Dynasty (AD 618 – 907) Jingdezhen's Chang river was used as a unique waterway for transporting precious Chinese porcelain from the town to the Yangtze River and onto other countries.
During the Ming and Qing Dynasty (1368-1644), government kilns were set up to provide porcelain exclusively for the Imperial families and the Imperial Porcelain Depot was established.
"The Sculpture Factory", Fragrant Garden Gallery and Diana's studio
"Ming Qing Yuan Sculpture Factory" originally was established in 1956 by the Jingdezhen government as a ceramic factory on 11-hectares. At that time the factory produced figurative wares for domestic and international consumption.
After its closure as a government factory in 1989 it was re-established as a unique art/craft complex by Director Professor Liu Yuanchang who had the vision of a reformed "Sculpture Factory'. It is now established and occupied by privately owned ceramic studios, galleries, a clay production factory, several large private community kilns and houses several hundred artists and over 1,300 technicians which all contribute to the ceramic industry.
The Professor Liu Yuanchang (former Director) is now one of the highest appointed state level Fine Arts Great Sculpting Masters'. His gallery, 'Fragrant Garden' and his studios are situated within the older part of this complex.
In 2004 I attended the first 1,000th year International Ceramic Master's exhibition and Trade Fair in Jingdezhen. At that time, I was as an over-glaze porcelain painting teacher with the aspiration to see and learn more about the making and decorating of porcelain. I was also interested to understand more about the Chinese culture and their arts.
During this visit I was introduced to Great Master Liu and after viewing some of my work was invited to exhibit with his studio at this important occasion. After the event the opportunity was offered to continue working as an international resident artist. In 2005 I returned to work on any project I chose and on occasions collaborate with him by painting some of his porcelain sculptures to exhibit in Shanghai.
I have lived nearly 6 months of every year since 2004 until recently in Jingdezhen because of this invitation and there is virtually everything I require to focus and make my work in my studio. There is nothing like this complex available here in Australia. It allows me to make structurally large and difficult art projects made in porcelain with the technical guidance from Professor Liu and Professor Zhang Siping from the Jingdezhen Ceramic University and other technicians if necessary.
I have had the privilege to learn many of these ancient methods and integrate them with my western ideas and skill.
For generations Chinese artists and craftspeople have developed their own unique methods of production and decoration. They were the first in the world to discover porcelain and invent many complicated decorative techniques. For centuries porcelain is reproduced in the same traditional ancient manner in the effort to preserve their unique history and skills in porcelain decoration and design. In recent years they have expanded their experimentation and have moved forward with new contemporary ideas.
Since 2005 I have created a series of nearly 100 decorated porcelain artillery shells called, 'The High Fired Series' and 'High Fired Motherhood', the final of the three series. Other works have been my 'Garden of Eden' apple series, other works and overglaze paintings on the Great Master's sculptures.
In 2007 I was the first foreign artist to be accepted by the government to purchase a private apartment.
In 2017, it was a great honour to be awarded an Honorary Professorship by the International studies department of Jingdezhen Ceramic University.  In 2018 I became the first and only female international artist to hold a solo exhibition of my 'High Fired Motherhood' series in the Jingdezhen China Ceramic Museum. It is a renowned museum which holds a collection of over 50,000 ceramic arts.
The friendship, generosity and sharing of skill and knowledge of the Jingdezhen people has been a cornerstone of my career.
 Collections:
Howard & Roberta Ahmanson collection, USA; Jingdezhen China Ceramic Museum, China; Australian War Memorial (Australian Capital Territory); Australian Embassy, Washington DC (USA); Canberra Museum & Gallery (ACT); Jingdezhen Ceramic University, China
Private Collections: Australia, Germany, China, Switzerland, USA, Korea, Thailand, Saudi Arabia, England, New Zealand, France.
Publications and Media:
Ceramics Monthly, USA, Nov 2020; Jingdezhen Ceramic University International Artists, book 2020; Xin Hua News Beijing; CIDU Jingdezhen TV & News 2018; CCTV Documentary, "Four Foreign Artists working in China", Xin Hua News, Beijing 2015; The Journal of Australian Ceramics 2016. "Conflict – Contemporary responses to war", Queensland Museum, 2015; CI, porcelain art magazine, Vol 1, Beijing, 2014; The 38thGangjin Celadon Festival, Exhibition of International artists' works, 2010; Freisinger Tagblatt, Munich, Germany, 2009; Korean Arts, magazine; Craft Arts International, Issue 74, Australia; Arts Monthly; Washington Post Express; Nanchang Daily News; Jiangxi Province Pictorial; Jingdezhen Daily; Shanghai Daily News, 2008; Canberra Times, "The Arts" 2007;Ceramics Technical; Australian Ceramics and Pottery; Canberra Times Panorama; Australian Porcelain Decorator; Revista International Ceramica Spain, 2005