ARTIST STATEMENT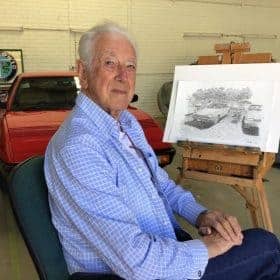 "Drawing and preparing artists impression of building designs have been an integral part of my professional architectural career, where freehand ruled long before the advent of computer-aided design. Drawing, preferably en plein air, is also a private passion".
"I find beauty in the geometry of man-made structures, and more recently in nature and the landscape. Subjects include an engineering feat traversing a craggy ravine, the ripple of a wave and the remnants of an ancient city".
"My early interest in drawing buildings was influenced by W. Hardy Wilson. I enjoy depicting detail, and I am latterly impressed immensely by the pencil work of Lloyd Rees, and the sketches of Peter Freeman and Steve Roach. Whilst I have tried water colour, pencil remains my medium of choice, allowing my subjects to share their character and form through light, shade and precision".