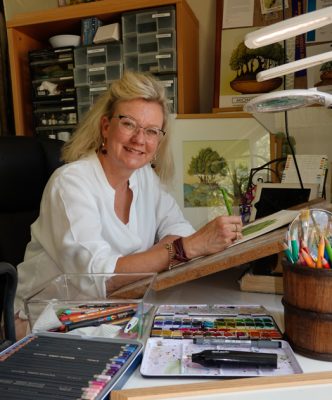 Michaela Laurie  is a visual artist who lives and works near Burra in NSW, just south of Canberra.
Her work is directly influenced by the landscape and natural environment which surrounds her.
She has become acutely aware of the comings and goings of animals and birds, the change of seasons, the beauty of light and the way colour dramatically changes the landscape.
Michaela works in two very different styles. Each style comes from the same influences and concerns about our land and the environment. Layering of lines, colours and mediums with attention to details that requires close inspection. The two styles require many hours to complete.
In 2016 Michaela's work was selected to hang in the Salon des Refuses Exhibition at the National Trust's S.H. Ervin Gallery in Sydney, Australia as one of 24 out of over 700 Wynne Prize entries. This exhibition also travelled to the Mornington Peninsular Regional Gallery in Victoria. In 2017 she was awarded Honourable Mention at the Chelsea International Art Competition in New York, won 1st place for Miniature Art at The Royal Canberra Show and 1st place for Mixed Media Miniature at the National Awards for Miniature Art in Sydney.